The truth about surfer hair
Surfer hair is one of the most sought out parts of being a surfer girl (maybe not mine in particular) but movies, videos and photos portray those sun bleach locks so well that you might believe that blondes do have more fun. And those salt, sun bleached ends and beach waves are faked and mimicked in hair salons globally. But the reality is that surfer hair (and coloured treated hair for that matter) can be sun damaged, brittle, dry and pretty unhealthy. Hair breakage, split ends and fizzy hair can be a constant struggle, and while most surfers may be more concerned with the wave coniditons than their hair, it is important to take care of it where you can. With massive hours spent in the salt water and sun, your skin and hair can take the same beating you might take in the impact zone.
Ocean Safe & Reef Safe Hair and Skincare
Not only does your hair get wiped out, but anyone who showers at the beach can see the damaging effects of the pollution from shampoo and body wash. Plastic bottles litter the beaches, get broken down and pulled back into the ocean, and finally causing micro plastic eaten by fishes (and then us). If that doesn't motivate you, you can agree it is just not cool to your surf experience, no one wants to paddle through plastic debris on their way to the line up. Beyond plastic pollution there are also the harmful chemicals getting leak out into the water. Majority of hair and body products are not biodegradable. The hair dyes for those ageing surfers affect the ocean too! (For those who can't give up colouring your hair, check out this article for dyes that have a lower impact on the ocean). More and more studies demonstrate how harmful the chemicals in sunscreen as well as hair and skin care products effects marine life and the reef, in Hawaii and around the world.
This was the a-ha moment for Kayla Pearson, the founder and owner of Surf Soap. She couldn't ignore the waste at her local surf spot and took the initiative to actively do something about it. Most people make a modest approach and try to 'buy better' but not Kayla, she created better. Not only is Kayla a rockstar mama, woman and creator, she is super sweet and supportive to her fellow surfers out there. Surf Soap is a woman led business, you want to stand behind. Surf Soap started as a question to the effects on the ocean, research on the other options out there then moving into a full on mission to enter into the market place with a killer mission and products!
Surf Soap's Sustainable Company Mission
Educate beachgoers about their impact on our oceans.
Empower others to take care of our precious resources and live their best lives.
Provide solutions that ocean lovers can trust – so they can spend more time on the water, and less time pondering their impact on it.
And of course, keep our surf clean and our fishies happy!
As mentioned, Surf Soap was created by hair expert and surfer mama Kayla, who wanted to provide a solution for an 100% ocean safe all natural product for busy surfers on the go. She has recruited a team of surfers at Surf Soap Co. who want to surf clean swell, and their community continues to grow on and offline. Their goal is to provide high quality, sustainable hair and skin products for surfers and eco-warriors alike. They believe in having a sustainable product from sourcing to packaging. Not only a sustainable product but also a sustainable mission for cleaner oceans, beaches and hair! Read more about their story here.
Vegan. Ocean Safe. Plastic Free. Always.
All of Surf Soap's hair and skin products are ocean safe, reef safe and plastic free…not to mention vegan! Hair and skin products that are healthy for your hair and skin but also your fishy friends. Introducing Surf Soap's Dawn Patrol Collection, a hair and skin care product line designed specially for surfers, by surfers.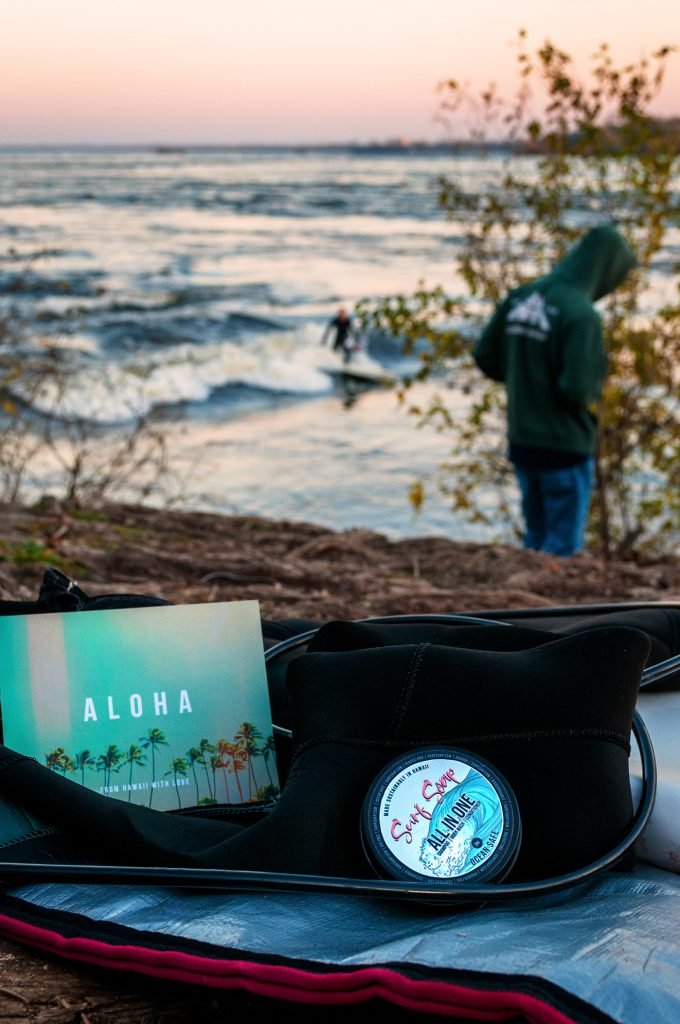 Surf Soap's All in One Surf Shampoo Bar
Get an all over clean with their All in One Surf Shampoo, Conditioner and Body Wash bar. Made for those post surf showers near the beach or quick post surf clean for the dawn patrol surfers in a rush. Sold with a metal tin that screws on for easy travelling, provides plastic free packaging and fast closing with wet hands! What sets Surf Soap's All in One Surf Shampoo bar apart from the rest? Kayla is a hair expert but also a busy mama surfer, who knows hair and surf life. She is a professionally certified hairdresser who researched and developed Surf Soap's products over the past few years to launch her perfected formula, and all products have been surfer approved! Surf Soap's All in One Shampoo Bar exfoliates hair, scalp and body giving that surf clean feeling. Using natural ingredients like cleansing pineapple, moisturising hibiscus and real Hawaiian awapuhi ginger that have been sustainably sourced and made locally right in Hawaii! It's fresh lemon and grapefruit citrus scent with wake you up after dawn patrol, while the mango butter, coconut and shea soften and protect your skin. But what really makes it special? It is completely ocean and reef safe. No chemicals into the waves and no plastic bottles snaking into the lineup. Fast, easy and super healthy post surf clean up. Get surf clean from head to toe without the sticky sand or soap residue from the cheaper shampoo bars on the market, before heading to work, school or whatever adventure you are looking for. Guilt free.
Rehab Balm: Restorative Hair Conditioner
Want a solution for your dry, brittle and sun damaged hair? Check out Surf Soap's super awesome hair repair and leave in conditioner, Rehab Balm : Restorative Hair Conditioner. Not only does it smell amazing but also you can use it as a preventive leave in conditioner. Add a drop and rub into your locks before hitting the waves, since all of Surf Soap's hair and skin products are ocean and reef safe no harm done there!
One of the biggest issues for female surfers is what to do with your hair, the damages from surfing on their hair and how to resolve it. Not that only female surfers have this issue, lots of surfer dudes want healthy hair and a quick solution. Yes, coconut oil helps (coconut is a key ingredient here) but it is not exactly convenient at the beach (think sand + oil all over) or attractive to grease up your hair with. This is where Kayla's hair experience and knowledge is put to the test. Her expertise has allowed her to create something that is healthy, natural, eco-friendly but most importantly awesome for your hair! It truly is an amazing product.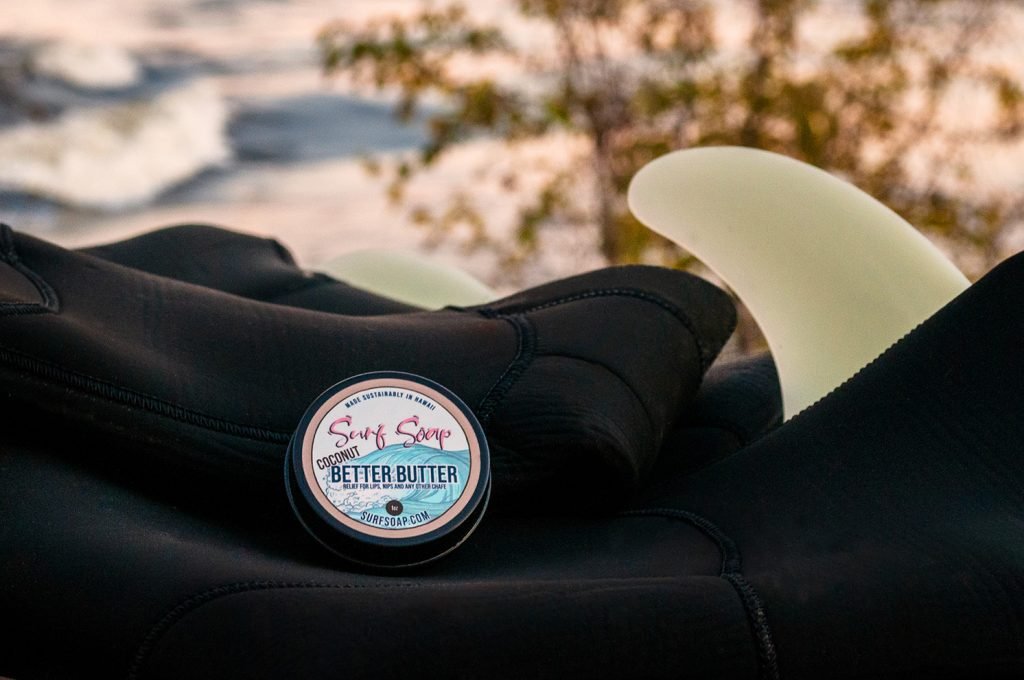 Relieve Surf Chafe and Dry Skin with Better Butter
Whether you're a cold water surfer or an all day fun in the sun surfer; chapped lips, skin and surf chafe is a unfortunate reality. Nobody wants to deal with that. Surfing is about having fun, but chapped lips and skin is no fun for anyone. Surf Soap's ocean safe and eco-friendly solution? Surf Soap's Better Butter . It comes in three flavours; Pineapple, Coconut, Mango all giving you a taste of the Hawaiian Tropics no matter where you are. Maybe those cold water surfers want to allow their senses to take them somewhere warmer post surf or when preparing the courage to hit those cold waters. Winter skin can suck so having something to soothe irritated dry skin is a life saver for those long cold winter. And since Better Butter has been formulated to stay solid in extreme heat, no need to worry on those heat blasting car rides home. As all Surf Soap products, it is ocean safe, you can apply before hitting the lineup to prevent surf chafe too!
"Handmade locally in Hawaii with all natural, sustainable and fresh ingredients. Our vegan, eco-friendly hair and skin care products are quick and easy to use. Throw them in with your surf gear, gym bag or road trips!"

— Kayla Pearson, Surf Soap Founder
---
What makes Surf Soap awesome? (the list goes on)
Easy to Use
Vegan
Cruelty Free
Eco-Friendly
Kid & Pet Friendly
Compact & Travel Friendly
Sulphate Free
Silicone Free
Plastic Free
Ocean Safe
Reef Safe
Biodegradable
Natural & Fresh Ingredients (locally and sustainably sourced)
Small Family Business
Sustainably made in Hawaii
Surfer Approved
Designed specifically for surfers
Great for Vanlifers, camping, outdoor and nomadic lifestyles
Great for surf trips, beach vacations, frequent travellers, minimalists
Small and easy to add to your beach bag, gym bag or carry on
Sustainable Surfer Girl Fav pick: Surf Soap's Rehab Balm
All of Surf Soap's products smell amazing, are top quality and healthy natural beauty products worth the higher price point. There is massive value for this eco-friendly, ocean and reef safe hair and skin care line. The Original Dawn Patrol Collection is really something to get excited about. The Dawn Patrol Kit is the perfect travel lineup for your local spot, beach or home shower and surf trip carry along, great for those itching to return to surf travel, digital nomads and on the go surfers. It includes their All in One Shampoo Bar, Rehab Balm, Better Butter and Bamboo comb. I love that it is made for surfers by surfers solving specifically surfer's hair and skin care issues. Surf Soap has created something not only for surfers themselves but also for the environment they live in.
My favourite hair product has to be their Rehab Balm, I have massive hair breakage as well as dry and colour treated hair, so the rehab balm was a miracle product for my hair. After two days, my hair was still shiny and soft. I had used a bit too much but my hair was not greasy even with too much product! Two days later, my hair still felt and smelt as fresh as if I came straight from the beach, almost acting as a dry shampoo. My hair never felt so naturally healthy. It honesty gave me better results than proven silicone professional salon products which I loved and used in the past. I am thrilled to find a natural, eco-friendly, plastic free and ocean safe alternative! It really doesn't get any better than that. Surf Soap's Rehab Balm is the best hair repair product for surfers and anyone with damaged or colour treated hair. Highly recommend giving it a try!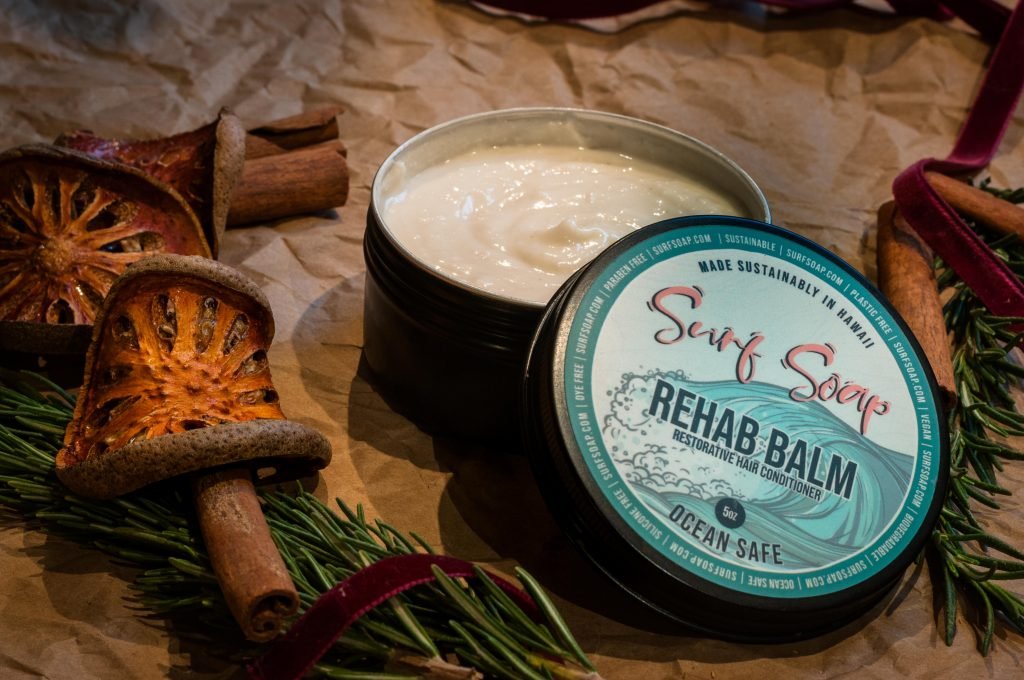 Super stoked to see high quality and sustainable products like Surf Soap offer a solution to an industry full of plastic waste. Go like their Facebook Page and follow on Instagram @surf_soap for their daily posts and Waste Less Wednesday tips, which has become a bit of a movement in itself! Plus, you never know when they may have a special offer or giveaway! Past giveaways collaborations included cool Eco-Brands like biodegradable sunscreen brand Mama Kuleana Sunscreen (Made in Hawaii) and swimwear by Del Mar based designer Alanna Hay and her Alanna Dawn Swimwear (Made in California).
Or head over to Surf Soap's webshop and starting shopping for some fabulous surfer self care. Mahalo!